Add Recipients
This window is used for choosing the required recipients for the Email message, from the lists of the email addresses of the Clients, Suppliers, Projects, Colleagues (Users) and Personal Contacts.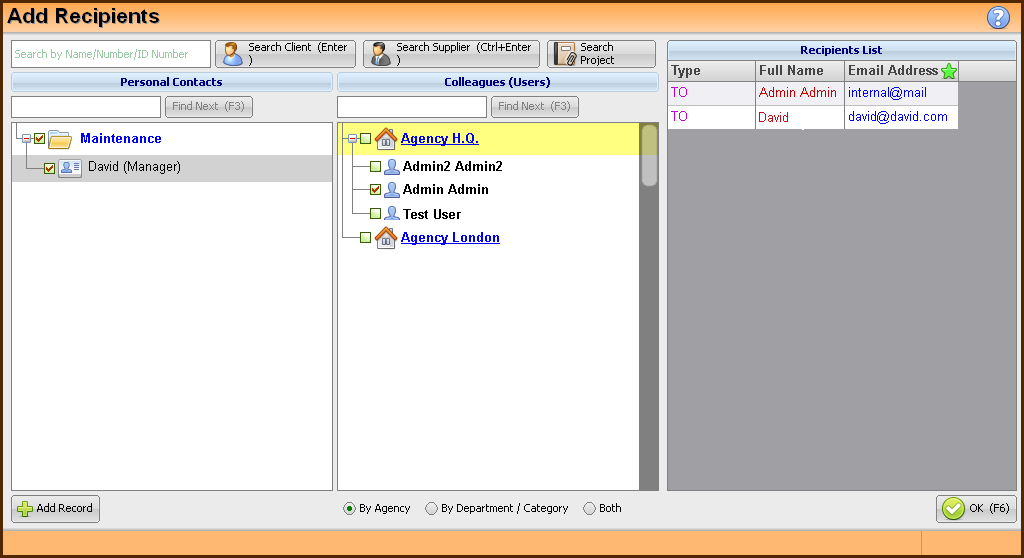 The button in the "New Message" page, will open this window, which allows the user to search and select recipients from three different sources:
Searching recipients in Clients / Suppliers / Projects cards. Write the required name in the search field and press the relevant search button. Double click on the chosen recipient in the search results window will add the recipient and will attach the message to the recipients Relationship Log.
Searching recipients in Personal Contacts list. Choose the requested recipient from list or use the search field.
Please note - We Recommend to avoid adding Clients and Suppliers to the personal contact list, so that any of contact persons will be attached to their Relationship Log of their Client / Supplier Card.
Choosing Colleagues (Users). select Colleagues from the list or use the search field. Right click on selected colleague, will suggest to send the message to the colleagues private Email Box. (As was defined in the employee card "Private Email field").
Recipients list - On the right side of the window the chosen recipients list will be displayed. The user can choose the type of the recipient from the suggested list (TO, CC, BCC). By using CTRL+R, the user can define the type for multiple recipients.