Import Open Items from Orders / Delivery Notes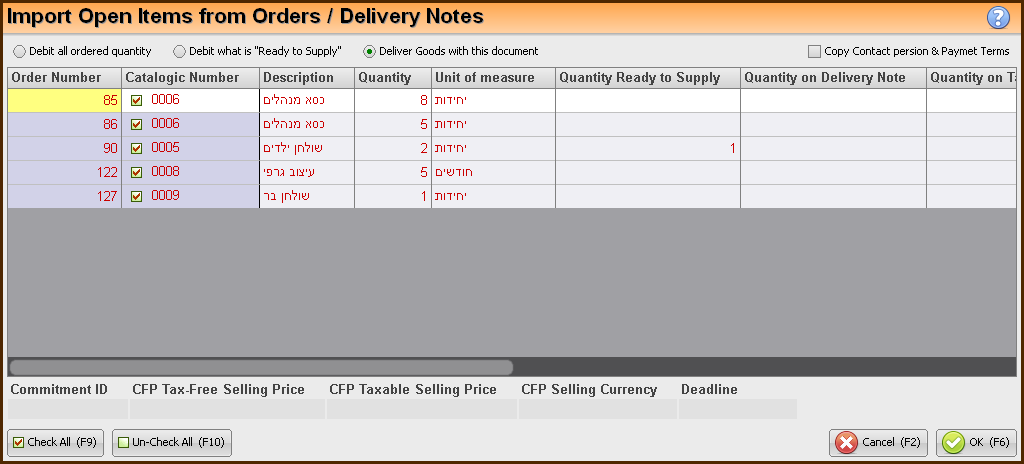 The Import Open Items from Orders / Delivery Notes window presents all of the unpaid orders and delivery notes. Each line shows its order details and includes the order number, quantity, unit of measure, Quantity ready for supply, Quantity on Delivery Note and Quantity on Tax Invoice. In order to add the items to the Tax Invoice, use the check-boxes to mark the required items. At the bottom of the window there are two action buttons to Check-All or Un-check All.
At the top of this window, the user should choose one of the three options:
Debit all ordered quantity - This table will show all of the unpaid items from existing orders. After choosing the requested items, the quantity of items will be editable in the Invoice Items table.
Debit what is "Ready to Supply" - The table will show all of the items that are ready to supply or does not require any manufacturing process. The quantity will be editable to any amount lower than the ordered quantity.
Deliver Goods with this document - The table will show the rest of unpaid items that were not delivered yet. This action will produce a Tax Invoice with the Delivery note number of the chosen order. Please note - Since this action links the Tax Invoice to the delivered items (Delivery Note), the user should first produce a delivery note for the delivered items and then to produce the Tax Invoice.

Copy Contact Person & Payment Terms - This option will take the Payment terms and Contact person of the most expansive order.
At the bottom of the table there are two buttons used to Check All or Un-Check All. In order to approve and continue, press the

OK (F6) button.