Mail Viewer
Double click on an Email message will open the message window.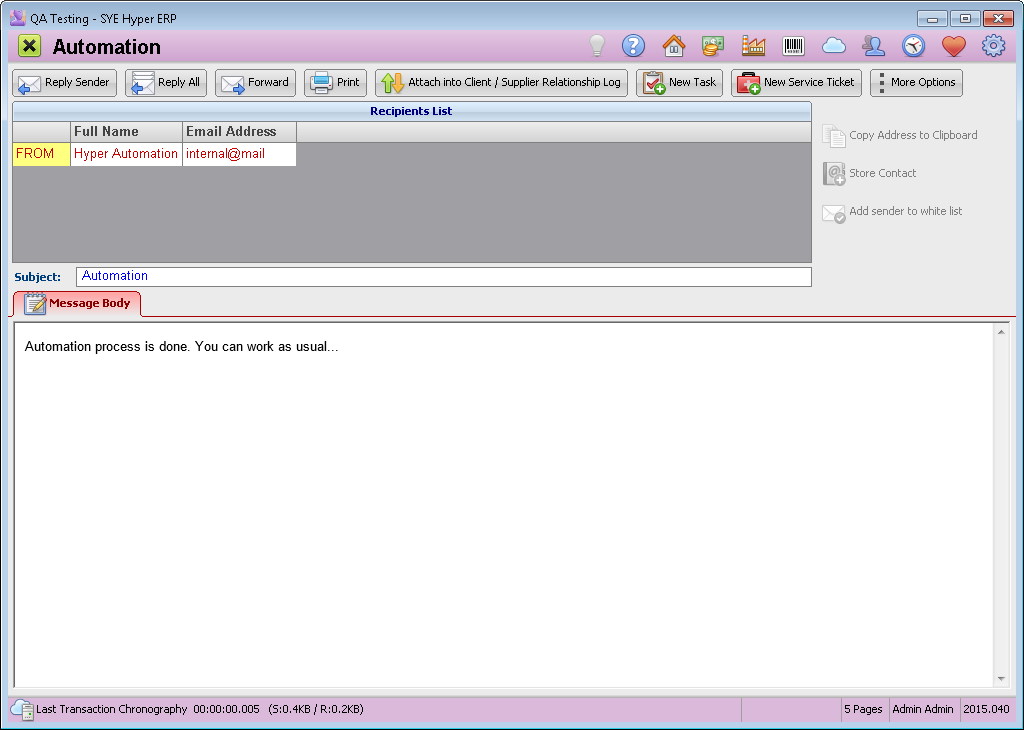 At the top of this window, the sender and the addresses details are displayed (except of hidden addressees - BCC).
There are few action buttons available for any message, according to the selected mail box. These action buttons are also available in the Homepage:
Reply Sender
Reply the sender of the chosen message.
Reply All
Reply all recipients of the chosen message.
Forward
Send this messages to other recipients.
Print
Print the selected message. The system will display print preview.
Advanced Features
Open the selected message. The action buttons will be displayed above the message.
Create New Task
The user can choose whether to create a new task or a new service ticket from the selected message. Choosing on of the option will copy the content of the message as follow:

Tasks - the content will be copied to the Subject field.
Service Ticket - the content will be copied to the Subject / Complain field.

Show Deleted
When this checkbox is marked, only deleted messages will be displayed. For regular display unmark this checkbox.
Delete
Delete the selected messages. Deleted messages will be archived.
More Options
This button displays three options:

Show Hidden Attachments - Display files that were attached to the message body.
Save Original .eml File to disk - Save message as .eml file on the local disk.
Copy body source to clipboard - Copy the source code of the messages body and make it available to paste on local computer.

Copy Address to Clipboard
Copy Email address to clipboard and make it available to paste on local computer.
Store Contact
Add contact details to contacts list.
Add sender to white list
Cancel the Spam label for the this sender. Sender will be marked as Spam by the system, according to definitions of the users authorization (Employees Module), in the "Spam Filter" field.