Relationship - Tasks
This tab displays all of the Client / Supplier / Project tasks (open and completed) and allows to create new tasks. Any new task can be related to a Client / Supplier / Project card in Hyper or alternatively can be inner general tasks of the organization.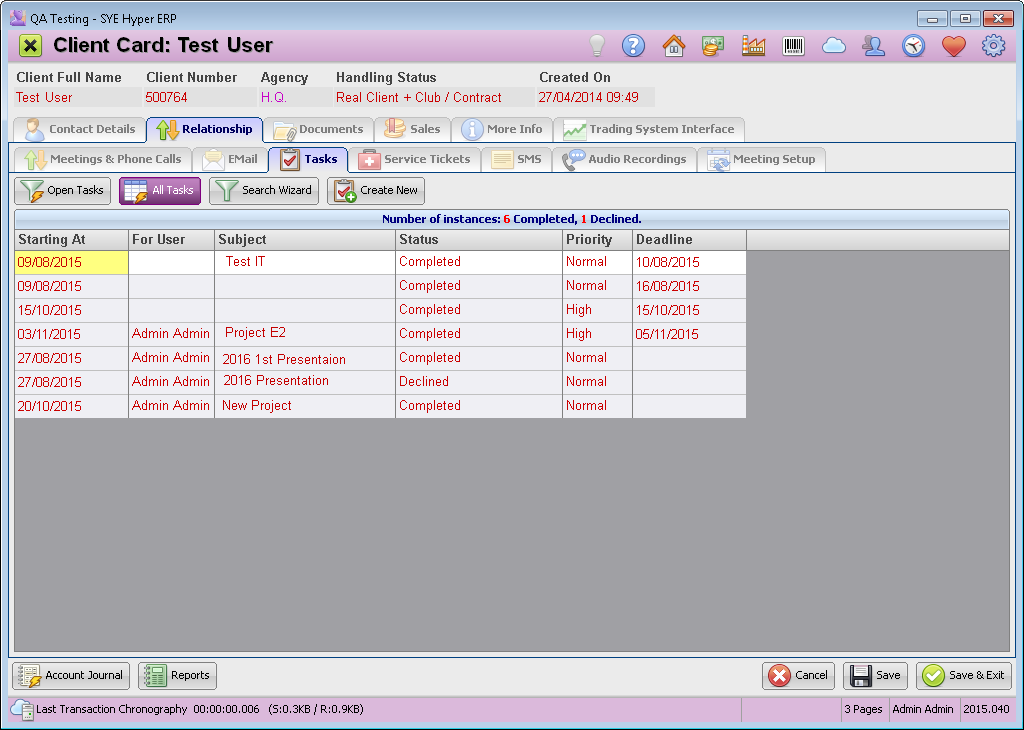 The action buttons at the top of this tab allows to choose the tasks to display in the table:
| | |
| --- | --- |
| Open Tasks | Display open tasks only. |
| All Tasks | Display all of the tasks. |
| Search Wizard | Use this option to create advanced search wizard (Filter). |
Create New Task
In order to create a new task, click the

Create New Task button. In the "New Task" window, the user should fill in all of the relevant information as described below: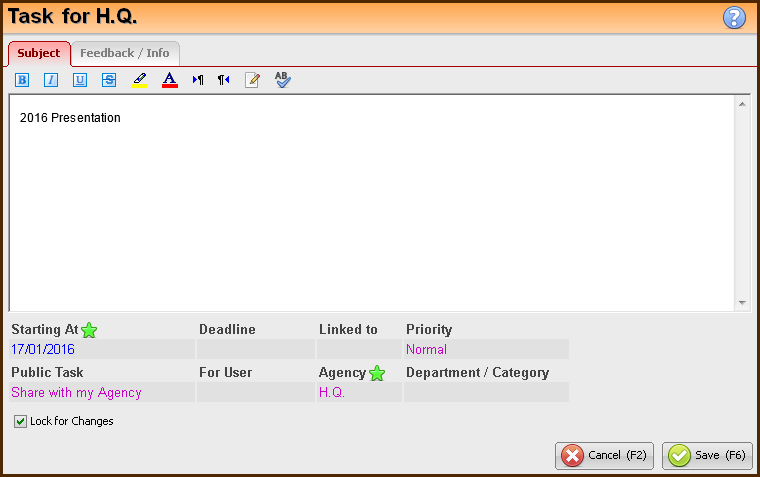 There are two tabs in this window:


Subject
In this tab, the user should fill in the details of the task, according to the information fields. The "Agency" and "Department" fields, are avaiable due to the definition of the "Public Task" fields. The task can be locked for changes by checking the

Lock for Changes checkbox. The details fields are described at the bottom of this page.
The following action buttons will be available after saving the new task:
| | |
| --- | --- |
| Write Email About this Task | This button creates an Email message with all of the task details, for the person that this task is related to. |
| Lingage | Open the Hyper card of the Client / Supplier that is related to this task. |
| Delete | Cancel this task. |
Feedback / Info
This tab is used to follow up the progress and the status of the task. There are two available fields for modifications:
Field Title
Description
Status
The current status of the task:

Not Started
In Progress
Completed
Waiting on someone else
Declined
Please note - When choosing the "Completed" or "Declined" status' the system will close the task.

Feedback / Notes
After updating the status, fill in the relevant details about the new status and the progress.
Follow up Open Tasks
After creating a new task, it will be added to the list of tasks. The open tasks are also displayed in the

Alerts List at the top of the Hyper main window.