Accounting
The Accounting tab of the supplier card displays the accounting rules, payment terms, commissions and invoices of the supplier.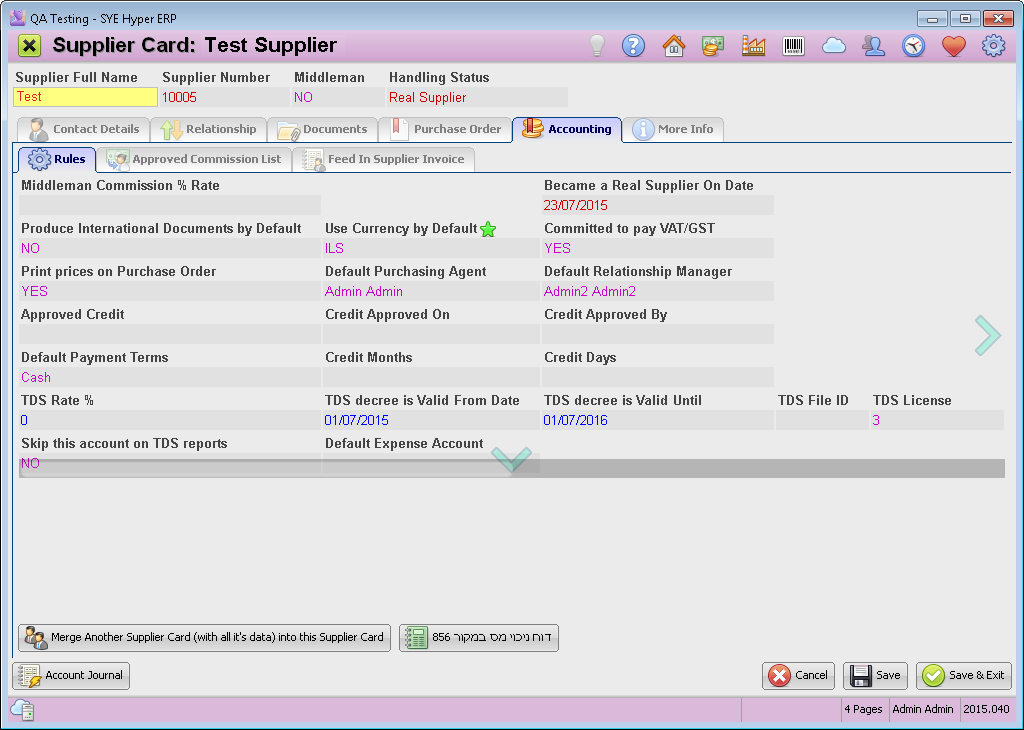 There are three sub-tabs in the Accounting window:
Rules
This tab is used to define all of the accounting rules and terms. At the bottom of this page there are explanations for each of this tab definition fields. Please pay attention to the following fields:
| Field Title | Description |
| --- | --- |
| Produce International Documents by Default | Choose YES to produce all of the supplier's documents in English. |
| Use Currency by Default | Choose the required currency for the formal document of the client. |
| Default Payment Terms | Choose the payment terms for the supplier. According to these terms, the "Credit Month" and "Credit Days" fields will be available. |
Merge Another Supplier Card
Use the button, to merge a selected Supplier card into this card (with all it's data). The additional information from the merged supplier card will be added to a new "Additional Contact" in this supplier card.
Approved Commission List
This table presents all of the approved commissions of the supplier.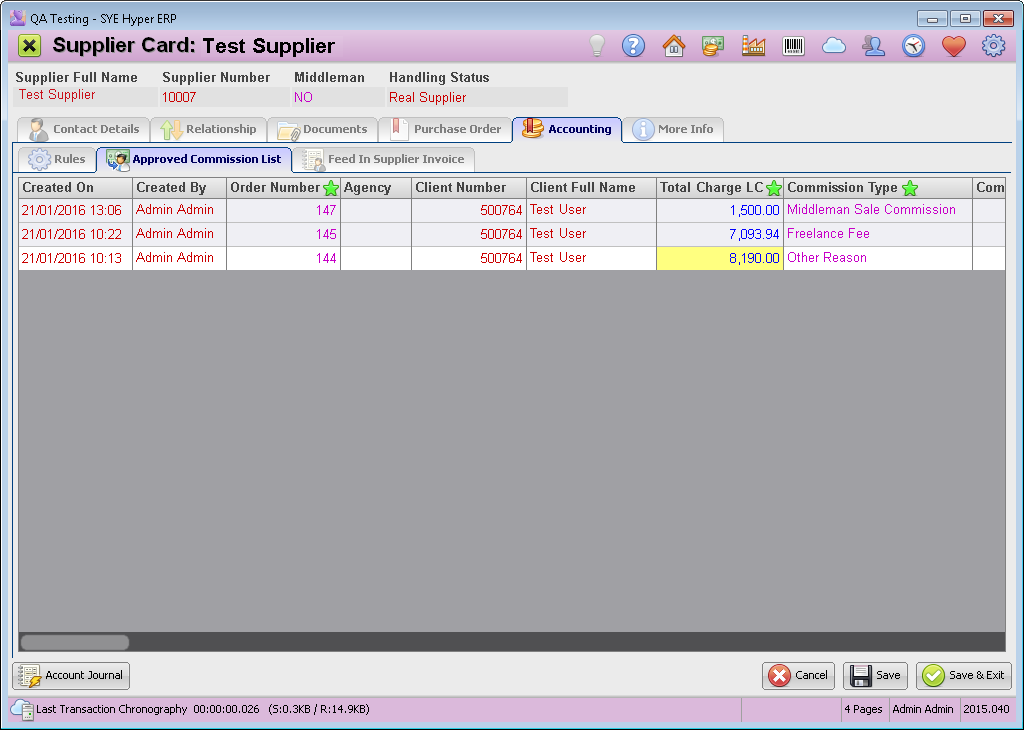 In order to add a commission to the supplier, follow the next steps:
Add a new row to the table by pressing Ctrl+Enter. Alternatively right click on the table and choose the "Add New Row" option from the displayed options.
Fill in the mandatory fields (marked with a star):

| Field | Description |
| --- | --- |
| Order Number | In order to approve commission according to sales, select the relevant order from the orders table. |
| Total Charge LC | The total charge of the selected order. This value can be manually modified by the user. |
| Commission Type | Choose the commission type from the list: Middleman Sale Commission / Freelance Fee / Other Reason. |
| Commission % Rate | The % Rate of the commission, that will be calculated according to the value of the "Total Charge LC" field. |

Fill in the required details in the rest of the optional fields according to the requirements.
Press the
button.
Please Note - All of the details in this tab are used for following up and do not effect any other areas or modules of Hyper.
Feed In Supplier Invoice
This tool allows the user to feed in invoices in order to create bookkeeping entries and make payments. For further information click here.