Bank Transfer
Payment is received via bank transfer. This receipt should be produced only after receiving the payment. In the "Bank Transfer" window fill in the account and the bank details as well as the amount and payment date.
1. Bank Transfer Receipt

2. Bank Transfer Receipt for Banking services / Broker / Trading Platform providers (regulated companies)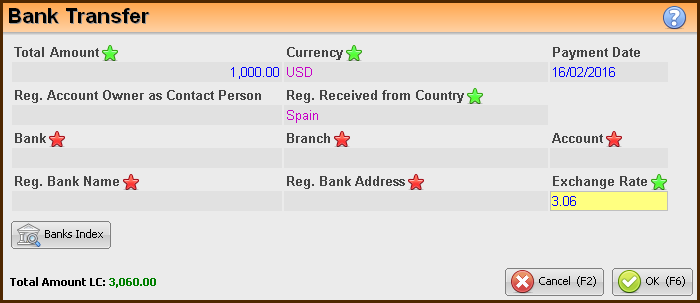 In the bank transfer window, fill in the transfer details including the total amount, currency, payment date, bank and account details. The bank details can be selected from the

Banks Index. After receiving the bank transfer, fill in the required details in the "Notes" tab, for the regulation and according to the organization policy.
The total balance will be displayed at the bottom of the window. If there is no "Receipt Collection Target", The total amount of the bank transfer will be displayed.
Please note - if there is no defined "Bank Transfer Default Account", no bookkeeping entry can be created for produced receipt of any bank transfer made by clients. In this case, the account manager should create a new invoice for the client and "Import Bank Entry Statement as Entry" for it. This can be done through the Toolbox of the Bookkeeping Module. Therefore, the account manager should choose how to deal with a bank transfer:
Produce a receipt after receiving a bank transfer. The receipt will create a new Bookkeeping entry from the client card to the "Bank transfer Default Account". In this account, the bookkeeping entries will be bundled with the imported bank statements.
If the receipt does not create any bookkeeping entry, when there is no defined "Bank Transfer Default Account", the account manager should import the bank entry statement and bundle it with the clients account.
Please note - the mandatory required fields for regulated companies, are displayed in this window (image 2), according to the definition of the "This Company is Regulated as" field, in the Bookkeeping tab of the System Fundamentals. The required details for the regulation should also be filled in the "Notes" tab.