Last Price
This tab executes a statistical Report which presents the different prices of each product, as will be described below. This tool is used by the sales manager to follow the purchases history of the client and to analyze it for future customization.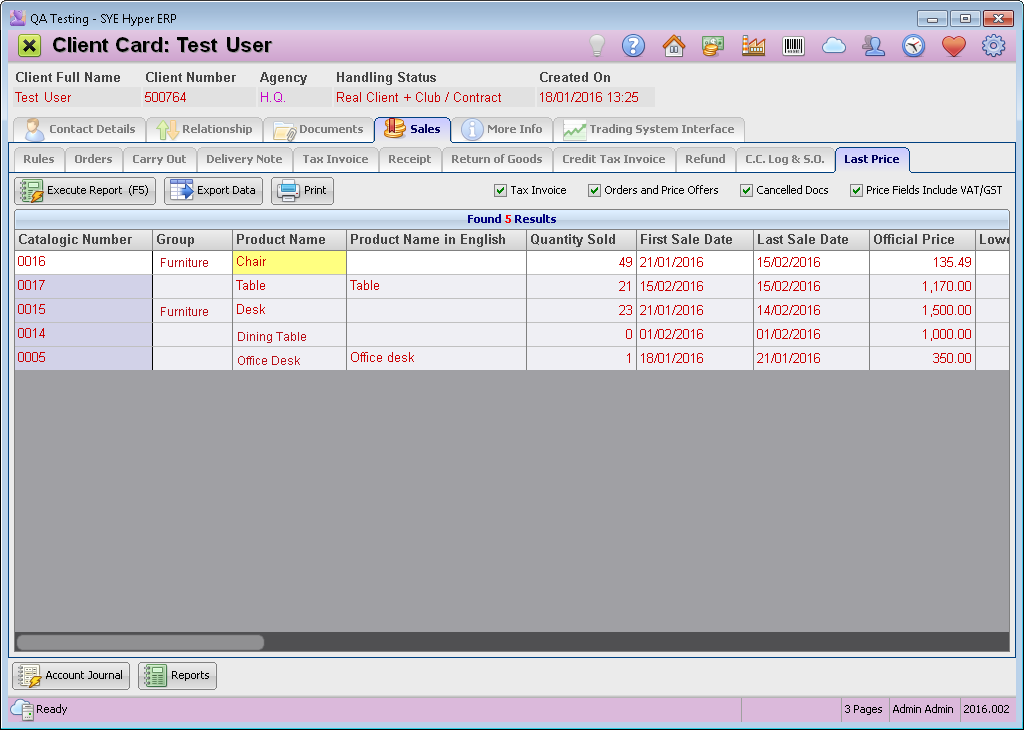 Introduction
This table is for read only and displays the statistical information about the selling prices. For each product, the system presents its catalogic number, quantity sold, first / last Sale dates, official price, lowest price, highest price and last price. Additional information fields can be added according to the users needs and requirements.
The data in the table is displayed according to the selected segmentation at the top of this tab.
Execute Report
In order to execute the required report, use the following check-boxes at the top of the table:
| | |
| --- | --- |
| Tax Invoice | This option will add the paid products to the table (purchased products with a produced tax invoice). |
| Orders and Price Offers | This option will add the products which are included in orders and price offers. |
For the chosen filters, select the required options from the following check-boxes:
| | |
| --- | --- |
| Canceled Docs | The statistical report will include the sold products from Canceled documents. |
| Price Fields Include VAT/GST | Check this check-box to include the VAT/GST in the price fields of the report. |
After selecting the required filters, press the

Execute Report (F5) button.
Print and Export Data
The user can export the data of this report by using the

Export Data button. Use the

Print button to print the report and for saving it as PDF file or sending it by Email.