Automation LOG & Web Services
There are two tables in this tab:
Automation Log - The records of the server's errors and malfunctions that were received by the automations, on the server side.
Web Services Configuration - The list of external services providers that Hyper synchronizes with.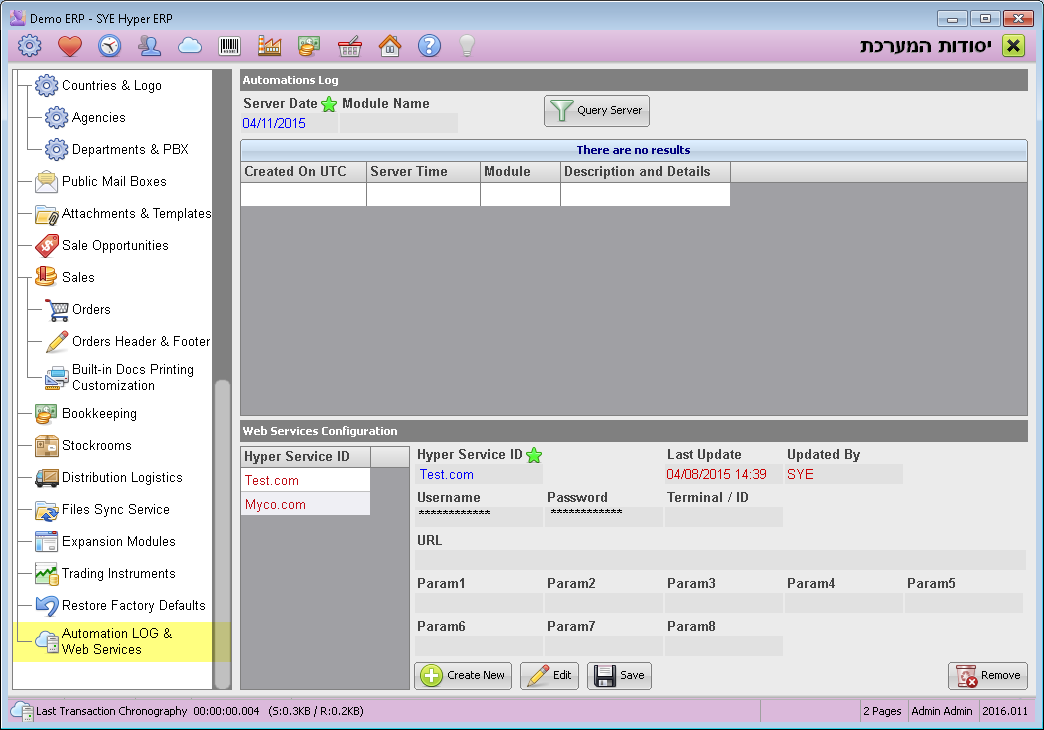 Automation LOG
This table displays any malfunction of the active automations, its description, creation time, server time and relevant module. The information is displayed according to the required values in the filter fields at the top of the table:
| Field Title | Description |
| --- | --- |
| Server Date | The required server date. As default, the system displays the current day. |
| Module Name | The searching for specific module (automation) it can be defined in this filter field. Leave this field empty to display the malfunctions from all of the modules. |
Press the button, to execute the search. This information is taken from the "hyp_ERP Automation Log" table.
Web Services Configuration
This area was designed for defining the external services suppliers of the organization. For example:
| Description | Hyper Service ID | Username | Password | Terminal / ID | URL | Param1 | Param2 | Param3 |
| --- | --- | --- | --- | --- | --- | --- | --- | --- |
| Credit card clearing via Pelecard | pelecard.com | Required | Required | Integer number | Not required | Not required | Not required | Not required |
The following action buttons are available at the bottom of this table:
| | |
| --- | --- |
| Create New | Add and define a new external services provider. After filling in all of the required definition fields, press the |
| Edit | Edit the definitions of the selected service provider. |
| Save | Save the modifications and definitions. |
| Remove | Delete the definitions of the selected external service. |