Audio Recording Organizer
Hyper allows its users to record all of their incoming and outgoing phone calls for follow up, analyzing and for future use. This tab gathers all of the user's phone calls to/from his position, that can not be automatically related to client / supplier card.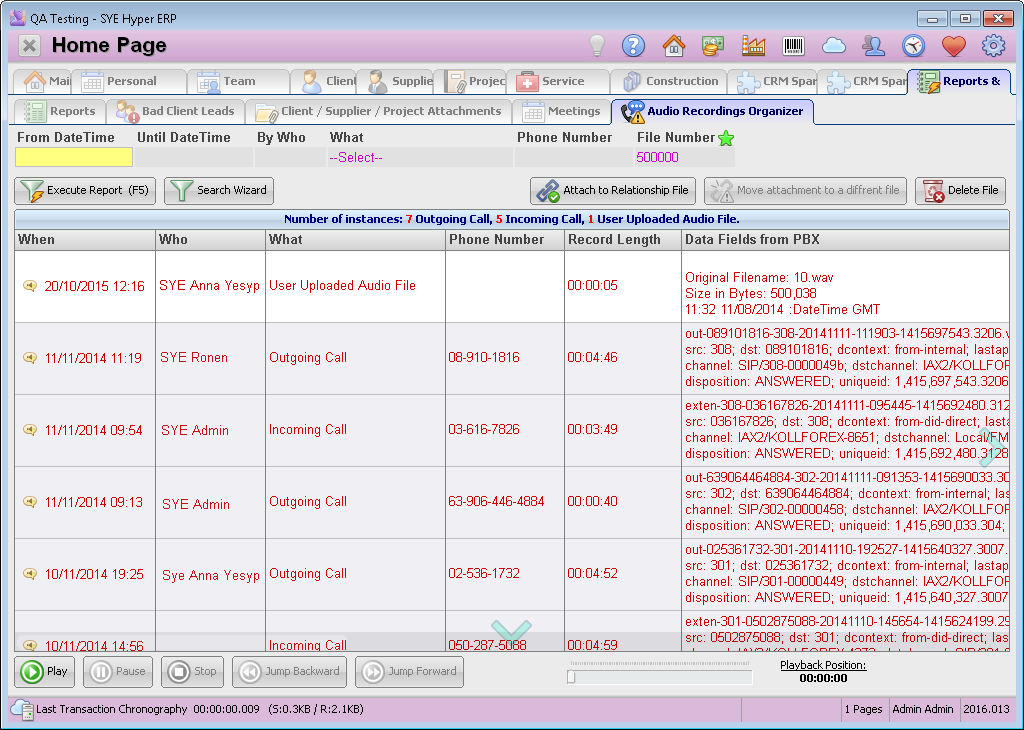 The incoming and Outgoing phone calls of organization that uses this function, are automatically related to the Hyper cards of this phone number. The phone calls that can not be related to any of Hype's cards, are automatically related to the POS Default Client Number, which represents the casual customers, that were not defined in the organization's system as clients. This Client Card is defined in the Local Computer Setup.
Search Records
The filter fields at the top of this tab are used for searching audio recording according to the following criteria:
Field Title
Description
Recording Date
Fill in the "From DateTime" and "Until DateTaime" fields, according to the date of the required phone call.
By Who
Select the required user from the list.
What
Select the type of the phone call:

Outgoing Call
Incoming Call
User Uploaded Audio File
Outgoing Call - No Answer
Incoming Call - No Answer

Phone number
The required phone number.
File Number
Select the required card of Hyper to view its records. As default, this field displays Hyper's casual customers card.
Press the button, to display the list of the required recordings. Alternatively, use the button.
Action Buttons
The following action buttons are available after displaying the search results:
| | |
| --- | --- |
| Attach to Relationship File | Attach the selected record to the Relationship of selected Hyper card. |
| Move attachment to a different file | Move this record to other selected Hyper card. |
| Delete File | Delete the selected recording. |
Recordings Player
The recordings player at the bottom of this tab, displayes the following action buttons:
| | |
| --- | --- |
| Play | Paly the selected recording. |
| Pause | Pause the playback. |
| Stop | Stop the playback. |
| Jump Backward / Forward | Jump 10 seconds back / forward. |
System Administrator
Save Recordings
The option of saving the recordings and relate them to Hyper cards, is available via separated interface. Contact SYE for further information.